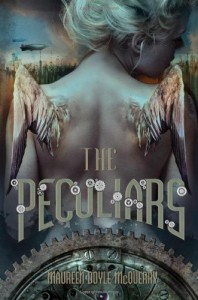 Egalley thanks to Abrams
Well, I'll keep my review short on this one as I don't have much to say.
First of all, I understand now why they needed to change the cover, because this book needs all the sellable points it could get. However don't be misled, - Lena is not blond and she doesn't have chicken wings. Her Pecular trait is goblinism - long hands and long feet.
I really struggled with The Peculiars and was tempted to DNF it a few times. It was excruciatingly slow to the point of boredom, and didn't deliver promised "dark and trilling adventure", unless you count the adorable cat shot in the leg and a malfunctioned aerocopter.
There are a few steampunkish elements, but it's all done in an unappealing and overly descriptive manner.
My main problem however is the main heroine herself. She makes all the wrong choices, she is quite vapid and treacherous, and I couldn't understand why Jimson and Mr. Beasley kept making allowances for her mistakes.
Overall, a great disappointment. Fascinating topic, interesting setting, wonderful inventions. It all should work, but instead leaves you unmoved. A pity.